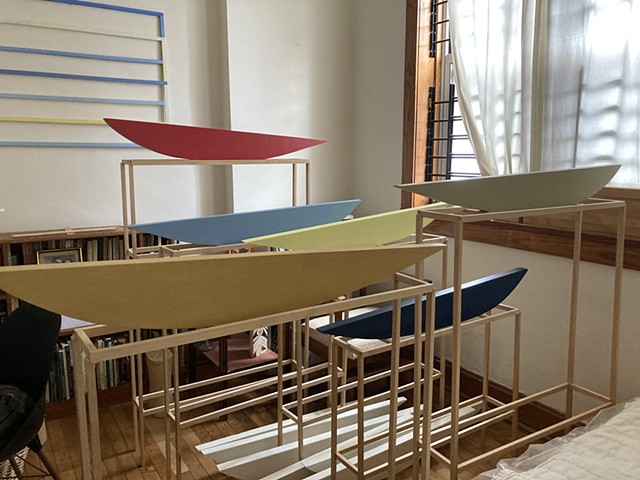 Anna Horvath (born in 1954, in Budapest, Hungary) is an artist who creates constructions made of wood or metal and works on paper. She emigrated to the US in 1974 and lived in Chicago since 1975.
She is inspired by nature, memory and industry; the modular qualities of industrial processes and products, meditational breathing, waves, wind, trees, shrubs: all things encountered in nature, in the moment. Her experimental process leads her to explore and respond to the material properties, qualities of color of materials and shapes she encounters. They guide her to emotionally resonant choices as she builds/cuts out structures, paints, draws. She is inspired by the memory/presence of household/farm tools, toys, architecture, landscapes; shadows on a sidewalk. Her objects often have a playful and minimalist sensibility. Her explorations through the observation and drawing of animals, plants, trees, household objects feed her practice. Her history of a meditation practice and her childhood spent in Eastern Europe influence her approach and vision.
She has bachelors and master's degrees from SAIC and a masters degree in counseling and art therapy from Adler University. She spent much of the last twenty years as a social service provider having taken this path as a means to make ends meet in a socially appropriate way. She also consistently maintained her artistic practice and production.